We get a lot of mail and some of it's either too generic or ambiguous to make us want to actually read it. It's obvious when I get a piece of direct mail in my mailbox whether anyone put any thought into how it speaks to me, how it feels in my hands, its shape, and the look of the design. Direct marketing needs to connect with the audience. In my mind, every piece of mail thrown into the recycling is a lost opportunity.
At Bluegrass, our business is modeled around thoughtful, engaging mail. Needless to say, our goal is to keep our clients' direct mail out of the recycling bin for as long as possible! Here's how we help you design a mailer that works.
Make it personal
The only thing between your direct mailing and the recycling bin is relevance. Does your message speak to your target demographic? While your direct mail campaign may be intriguing, it's ultimately designed to communicate to a large audience. Personalized direct mail is more effective because it helps to build relationships with customers, as well as increase engagement and response rates. In today's digital world, the personalization of direct mail has the power to stand out from all the other emails and online advertisements that bombard people daily. We can design a mailer addressing each recipient by name, using images or content that are tailored to the interests of the individual customer. We do this using variable data printing (VDP).
Choose the right mail piece format
When it comes to a direct mail campaign, the last thing you want to do is reinvent the wheel. Choosing your own mailer size has been heavily streamlined by the USPS. However, you still need to make an informed choice about how big (or small) you want your message. Postcard, self-mailer, letter, or catalog; the choice is yours! For example, if your goal is to drive sales with an offer or special deal, postcards are a great choice as they can be designed quickly and cost-effectively. On the other hand, if you wish to create an emotional connection that leads to loyalty and brand recognition over time, opt for newsletters or brochures that provide more detailed information on the company's offerings. Of course, we have plenty to say about the different direct mail formats and how to best use them.
Stick to the brand guidelines
Unappealing and sloppy aren't traits you'd want to showcase at the office. The same can be said when it comes to your company brand! Your brand is the look and feel of your business – kind of like the personality of your business. When designing a direct mail piece, it is important to stay true to your brand's guidelines. Use consistent colors, font types, and sizes throughout the entire piece. Also, make sure that all images and artwork used are in line with your company's branding like the example below.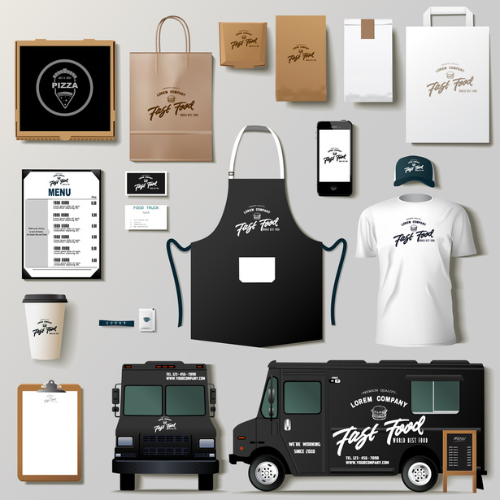 Optimize images, colors, & fonts
Whether you're working on images designed for the web, or those going to print, you need to pay close attention to image optimization techniques. Digital images you post on your social media or business website will not translate well to print. Print design is an entirely different game. A printed image needs to be much higher in resolution than a digital image—what looks good on the screen will look blurry on the printed page, depending on the "dots per inch" (DPI).
Furthermore, digital screens are all calibrated differently, some better than others. This means something as simple as the color red might look pink on your smartphone, red on your laptop, and orange on your iPad. This goes for print as well—what you see on the screen will not directly translate to the page. To learn more, check out our post on image optimization.
Consistency is key
I always tell my clients that success isn't about perfecting one aspect. Instead, it's about making sure every component fits together. A well-designed direct mailing is cohesive at every stage. It needs to embody your brand, strike a chord with your audience, use its format wisely, and simply be visually appealing.
At Bluegrass, we have experts for all of these stages, copywriters, graphic designers, printers, and more. Let us take what you want to say and communicate it wisely and widely. We'll work hard to design a mailer that will get the attention of consumers while staying on brand.
Interested in how Bluegrass can help?
See what we can do.