Struggling With Donor Acquisition? Here Are 5 Essential Tools
It can be difficult to acquire new donors for a nonprofit organization. Most people only donate to causes that they are passionate about, and it can be challenging to find people who care about your cause enough to donate. However, there are a few marketing strategies you can use in order to acquire new donors at a sustainable rate.
One of the most important aspects of a nonprofit organization is donor acquisition. This is the process of acquiring new donors, or individuals who are not currently contributing to your cause. Donor acquisition is necessary in order to maintain your organization's operations. If you do not acquire new donors, it will be virtually impossible to keep your organization afloat. Furthermore, donor acquisition is imperative because it allows your organization to reach more people. By acquiring new donors, you expand your base of support and are able to raise more money for your cause. Without donor acquisition, your organization will not be able to grow and reach its goals.
How do I acquire new donors?
There are a few different methods that you can use to acquire new donors for your nonprofit organization. The most commonly used methods are direct mail, email, and text messaging, but you have many more options than just those three. Ensuring prospective donors have a good grasp on the work you do and what you plan to do with their donation is what will ultimately be the deciding factor.
Direct Mail
Direct mail is a very effective way to reach potential donors. In order to use direct mail effectively, you need to create a compelling message that will persuade individuals to donate to your cause. You also need to make sure that your mailing list is up-to-date and includes the correct names and updated addresses of prospective donors. Though there are many different types of mailings you could send, there are a few key ways to make your mail piece stand out. Personalize your mailing as much as possible, vary the size and color of your envelope, and consider making it an interactive experience. Creating a memorable experience in the goal.
Email
Email is another common method of donor acquisition. Email is an effective way to reach prospective donors because it is inexpensive and easy to use. Donor emails can also be used to solicit donations, thank donors for their support, and give donors a way to easily share information about the organization with their friends and family. In addition, donor emails provide nonprofits with a valuable tool for tracking prospective donor engagement and measuring the success of their fundraising efforts.
Text Messages
Text messages are becoming more and more common when it comes to donor acquisition. In fact, text messages have a number of advantages over email when it comes to donor communications. First, they have a higher open rate: nearly 98% of all text messages are opened, compared to just 20% of donor emails. Second, they're more likely to be read immediately: 59% of people read a text message within five minutes of receiving it, while only 10% of people do the same with donor emails. Finally, text messages are less likely to get lost in the clutter: on average, people receive just under half as many text messages as they do emails each day. For nonprofits looking to boost their donor acquisition communications, text messages are a powerful and effective tool.
Additional Tools
Social Media
Nonprofits can use social media platforms to connect with prospective donors, as well as current donors. In order to attract new donors, nonprofits need to create interesting and engaging content that will capture their attention. Additionally, nonprofits should develop a social media strategy that outlines how they will use each platform to reach their target audience. Meta, which owns Facebook and Instagram, makes it easy for nonprofits to fundraise. From setting up a nonprofit page with a donate button to automated ways to thank your donors, they have multiple tools to assist you in your efforts. By using social media effectively, nonprofits can connect with users and raise awareness about their cause.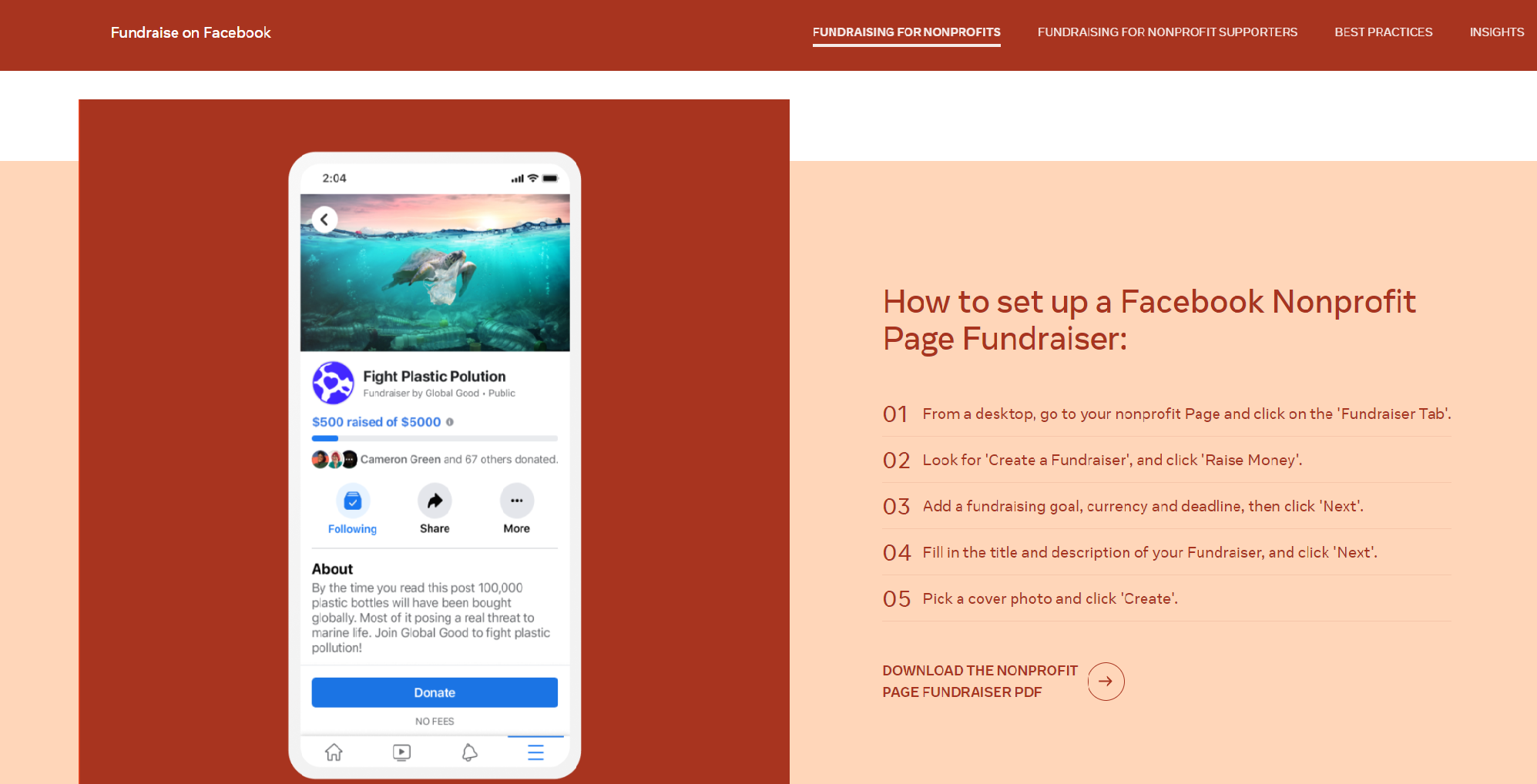 Social Media Advertising
You should also consider running effective, low-cost ads on social media. You can target your audience by demographics, geographic area, interests, and more. Then you can retarget the people who showed interest in your nonprofit and hopefully, convert some of them into loyal donors.
Even one dollar a day can go a long way when you have a detailed strategy. Marketing expert Dennis Yu calls his dollar-a-day strategy the crown jewel of social media marketing.
Digital Downloads
If you spend time creating valuable content such as an eBook, a how-to guide, or a report, you can provide this in exchange for an email address. It's a win-win situation. By creating a digital download about a subject people care about and answering all of their questions or addressing their concerns, prospective donors will feel more confident in their choice to become long-term donors.
With a well-designed landing page and effective promotion, a digital download is a creative lead generation tool that you will be able to use again and again.
Your message is what matters
No matter the method you choose for acquiring new donors for your nonprofit, it all comes down to conveying the message that your mission is important and letting everyone know how they can help. Our team has a wealth of experience in nonprofit marketing and would be happy to share our expertise with you. Contact us today so we can discuss our fundraising services.
Interested in how Bluegrass can help?
See what we can do.