10 Easy Ways To Improve Your Landing Pages
A landing page is one of the most important elements of a successful digital marketing campaign. Landing pages exist to either capture sales leads or directly sell a product. It's the first page that potential customers will see when they click on a link from a search engine, social media site, or email campaign. They're specifically designed for converting traffic into customers, and they have different purposes depending on what you are offering and what you want from visitors.
Landing pages are not like other web pages on your site. They focus more heavily on encouraging visitors to take a certain action, rather than explore the rest of what you have online. That means that optimizing your landing page is essential if you want to convert visitors into customers. Luckily, there are a few simple things you can do to make sure your landing page is as effective as possible.
Tips for a great landing page
1. Concise copy
Create clear and concise copy that tells visitors what they can expect on your landing page. Write for your prospects; not at them. Use simple words so it is easy to read but also captures their interest. Bullet points make reading more enjoyable. Use keyword repetition throughout body text where appropriate. Be sure to focus on making it easy for visitors to understand what you're offering.
2. Authentic images
Use images on your landing page to help illustrate your message. People are more likely to remember information that is paired with an image. Hero shots are the key to making your product or offer stand out. We recommend using photos that showcase real-life examples of your product in use as opposed to stock images because people today crave authenticity.
TruGreen shows several before and after shots of lawns. These images represent exactly what they are offering and show potential customers what they can expect when using their products.
3. The right CTA
A clear call to action is essential on a landing page. Choosing a call-to action that is attention-grabbing and creative will increase your conversion rate. The right words can make all the difference in how people interact. Don't use business jargon. Just tell them what you want them to do and make it easy for them to take that action. Make sure your button or link is prominently placed and clearly labeled with a color that stands out.
In this example from O'Charleys, you can see that the CTA is centered in blank space, uses alternating colors and provides simple instructions.
4. Color choice
Use contrasting colors on your landing page to make sure that your call to action stands out from the rest of the page. Bright colors are more likely to catch a visitor's eye, so using them on your landing page can help increase the chances that they'll take the desired action.
Check out the Proof Fitness landing page. The bright green really stands out on the black background. My eyes immediately go to the CTA and that is always the goal when creating a great landing page.
5. The benefits
Include a detailed explanation of your offer's benefits. People want to know what they're getting before they hand over their contact information. Include a detailed explanation of your offer's benefits on your landing page, and make sure that it's easy for visitors to understand what you're offering.
6. Social Proof
Use testimonials as social proof. If you have happy customers, put their testimonials front and center on your landing page. Seeing that other people have had success with your product or service can be just the nudge that potential customers need to convert.
Here is an example from one of our very own landing pages where we used our Google reviews as social proof.

7. SEO
Create with search engine optimization (SEO) in mind. Make sure your landing page is optimized for the keywords you're targeting. Include those keywords in your headline, copy, and elsewhere on the page. This will help improve your ranking in search results and make it more likely that potential customers will find your landing page.
8. Clean Design
Keep your landing page design simple and easy to navigate to prevent people from becoming overwhelmed and clicking away from your site. Too much clutter will just confuse visitors. A few well-placed images and clear headlines can go a long way in making a positive impression on your visitors.
This LinkedIn landing page keeps it clean and simple. A heading, brief description, example image and a CTA are all displayed with no distractions.
9. Contact info
Include your business's contact information on your landing page so that potential customers can reach out to you if they have any questions. This will help build trust and make it more likely that they'll convert into paying customers.
10. Popups
Try using an exit popup. An exit popup is a window that appears when a visitor is about to leave your landing page. It can be used to offer a discount or other incentive in an attempt to get the visitor to stay on the page and convert.
Aptive not only used an exit popup with a discount, but they used the words, limited time offer, to create a sense of urgency. The scarcity technique encourages users to act quickly so they don't miss out.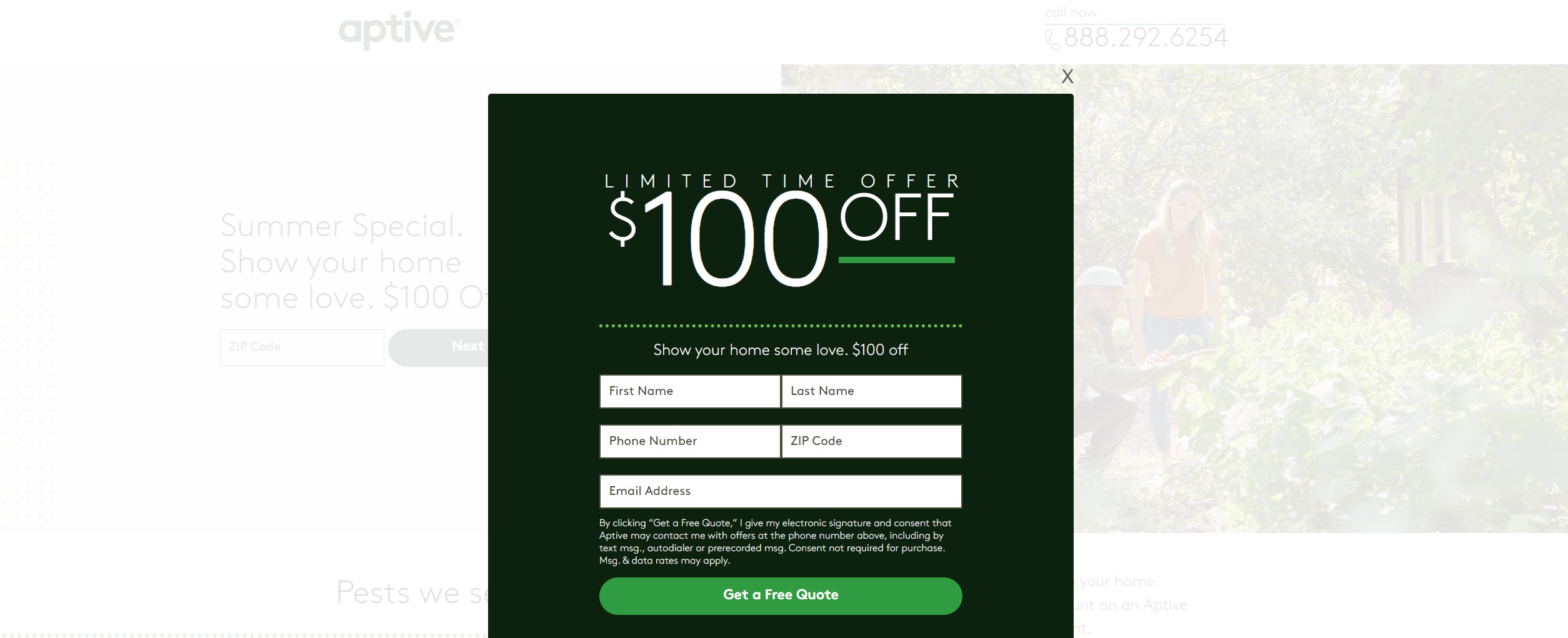 Conclusion
Finally, make sure to test your landing page before you launch it. Try different versions of the headline and copy, and see which ones result in the most conversions. You can also use A/B testing to compare different landing pages side-by-side. By testing different elements of your landing page, you can be sure that you're putting your best foot forward and giving yourself the best chance for success.
Interested in how Bluegrass can help?
See what we can do.