Things to Consider When Choosing A Paper Type
It's been proven time and time again that people are largely tactile creatures. That is to say, the way something feels informs many of our preconceptions about a product. Paper stock is no exception. You may not have watched the (rather horrific) film American Psycho, but you might be familiar with the movie's business card scene, which has been imitated many times since. While the movie is a work of pure fiction, the scene where they compare their rather banal business cards brings with it plenty of truth. That truth is that the quality and weight of paper stock is an essential component of your print media campaign. First impressions can make or break peoples' perceptions of your product. And with print, paper stock is one of the first things a person will notice. Choosing your paper type is one of the first steps in the process.
Isn't the Popularity of Print Media Waning?
As a graphic designer at Bluegrass Integrated Communications, I get asked that question a lot. We live in an era where eBook readers, tablets, and shuttered local newspapers are the status quo. With each newspaper and magazine publication that stops its production, comes an increased paranoia that the entirety of print is dying or already dead.
Yet, I have the data to convince you otherwise. Any time a client responds with misgivings about a print campaign, I always remind them that a proper marketing campaign is multi-faceted. Print is just one way to target an audience. And it's still as essential as ever. The truth is, almost half of our direct mail audience will read or at least skim the pieces they get. Try hitting those numbers with only an email campaign.
Not to mention, I've researched to understand how the average person perceives printed media—I am in no way dismayed by the findings. Via the Canada Post, direct mail requires 21% less cognitive effort to process than email. Beyond that, direct mail recipients purchase 28% more items and spend 28% more money than people who don't get that same piece of direct mail.
The perception of print media as a dying art form is rampant but doesn't describe the full picture. In the case of direct mail, it's still one of the best ways to consistently reach your audience, assuming you make the kinds of considerations in your print media that will engage with them.
Things to Consider Before Choosing a Paper Type
Paper stock comes in many shapes, sizes, and even weights. What you choose will have a lot to say about your direct mail before your audience even reads the print. The more considerate your choices are, the more impact you'll have with your finished product.
Will Your Piece Be Sent Through the Mail?
The answer to this question is almost assuredly "yes" since we're dealing with direct mail. The rule of thumb, when mailing paper, is to keep the thickness of your paper to a minimum to reduce the weight and the overall cost of mailing.
However, it's important to consider the overall effect you want to have on your audience. A thicker, heavier stock will always feel higher-quality to the average person. If your brand emphasizes luxury, then it's important to find an even balance between a nice, heavy stock that isn't going to cost you a fortune to mail.
How Weather-Proof Would You Like Your Paper to Be?
Once again, if we're speaking to direct mail, then it makes sense for your paper stock to be able to brave the elements to a degree. While your paper doesn't have to be completely waterproof, it should have a built-in coating or have a coating added that repels water. At the very least, ensure the ink applied to the piece will not smear or run if it gets wet.
Will There Be Perforations?
Many direct mail pieces feature perforations, be it for a coupon, response card, or some other facet of the piece that you want your audience to tear free from the piece itself. If that's the case, then you'll want to choose a thicker paper stock. The thinner your stock, the higher the chance that a perforation will tear at the wrong place.
Types of Paper Stock
You have a myriad of options when it comes time for you to be choosing a paper type. Many varieties have overlapping features, so there will come a time for you to choose a stock not simply for practical reasons but aesthetic ones. With that said, the typical options for direct mail paper stock are as follows:
80# Matte Cover
This is a great choice for postcards where you want a high level of clarity to your printed material. Ink looks vivid and brilliant to the eye due to the non-glossy finish. 80# is on the lighter end of the spectrum when it comes to card stock—think of the heft of a postcard.
100# Gloss Text
If your piece is heavy on photographic elements, then 100# gloss text paper stock is a great choice. It has a smooth feel and allows photographs to retain their high-quality look when printed. While this option is sophisticated, it's typically relegated to things like brochures and flyers because it's thinner than what you would typically find in the mail. However, it might be the perfect option to make your direct mail piece stand out from the rest.
130# Gloss Cover
This is typically as heavy a card stock as you'd go with direct mail. In fact, 130# Gloss Cover is the quintessential option for direct mail due to its vivid sheen and its natural heft. It's thick and heavy yet highly glossy. It feels good in your hands and the printed material looks good due to the high sheen. It strikes a great balance.
Print Media is a Necessary Piece of a Larger Puzzle
Marketing is a puzzle with many pieces. While you can get by with missing one or two, you're simply not going to see the entire picture without them. While your audience may not consciously understand the difference, they will subconsciously feel the lack of a broader message.
The truth is, people, enjoy being communicated to when those communications work. At Blue Grass Communications, my job is to understand how to speak to an audience organically. Part of that communication is in being holistic—we want your audience to feel like your message to them is serendipitous and personal. That's what we know truly resonates. While paper stock is just one piece of the puzzle, it's part of the puzzle all the same.
Interested in how Bluegrass can help?
See what we can do.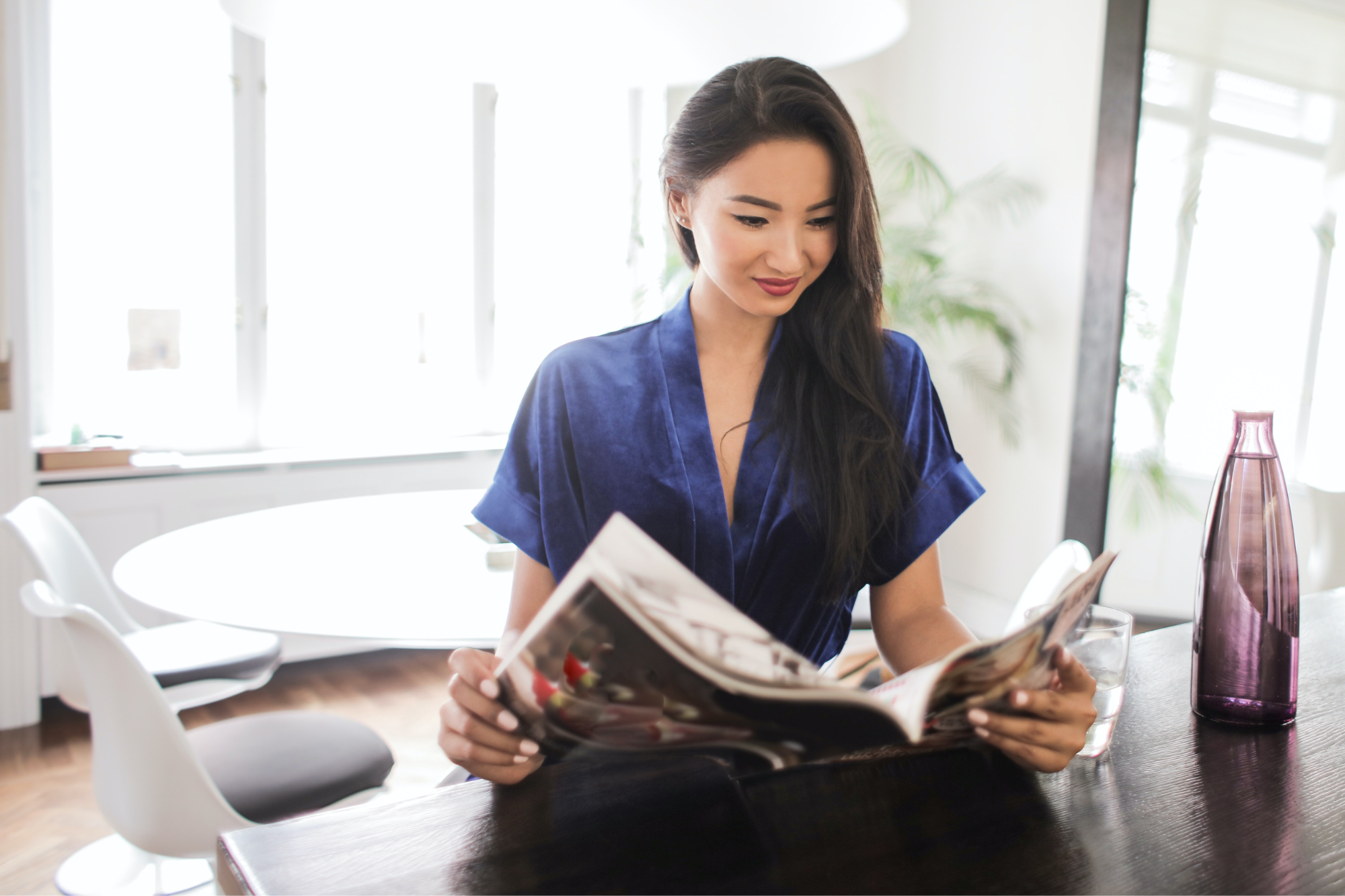 Direct Marketing
July 5, 2023