Essential Marketing Emails for Beginners
Your email list is growing, you've sent the welcome emails, but now what? Keep the conversation going and keep building on the relationship through various types of email marketing. The more you communicate in a genuine way with your audience, the more your business will benefit. But don't spam your list with too many irrelevant emails. That will quickly end with an unsubscribe!
We like to follow these two basic principles.
The information you send must focus on them, not on you. Think about what your business can do for your customers. We always say, sell the benefits, not the features.

Differentiate your messages by using multiple formats. By doing this you can find out which type of email resonates with your customers and results in the most engagement.
Emails for Building Customer Relationships
Dedicated Emails
These emails are about one specific subject and therefore will only go to a specific email list. This could be an email about a wine tasting event that only goes to those who signed up to learn about your events. Or a confirmation email about an upcoming webinar that goes only to those who signed up for the webinar.
For example, we have sent emails about our marketing services for political campaigns, to individuals who are running for office. Imagine if we sent that email to the people who subscribed to our blog. Confused, annoyed subscribers would say goodbye to Bluegrass. With good reason, to be fair.
New Content or Information Emails
When you've created something new that you are excited about, share this with your email subscribers. Maybe you have created a new white-paper, or written a new blog post you want to share. It could be an email about a new product, service or location opening up. Updating subscribers about what is new in your business is a simple way to keep your customers interested.
I received one of these emails just a moment ago from TradePub.com. They were advertising a new guide that focuses on brand management. There was a brief description and then a brightly colored call to action; Download for Free!
Cart Abandonment Emails
Abandoned cart emails are a great way to remind your customers of the items they had in their cart before leaving. This email could include some kind of discount code or another incentive so that you can lure them back to your website in hopes that they will complete their purchase.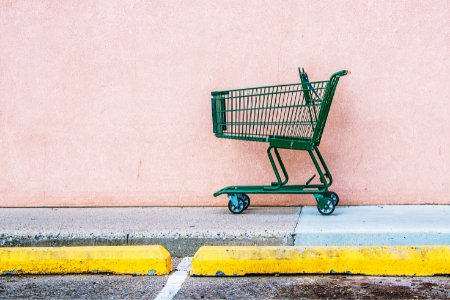 I recently received one of these emails from Etsy. The subject line was – Whoa, You haven't bought that yet? It was funny, and actually made me want to open the email. When I did open the email, there was a message telling me I have great taste, a photo of the sweatshirt I was eyeing and a call to action prompting me to check out now. There was no incentive as the email came from Etsy and not the seller, but it still got my attention and made me rethink abandoning my cart.
Rewards Emails
If you have a rewards program for your customers, make sure to let them know what they can do with their points! You can send a marketing email to let them know how many points they have, and what kind of rewards they can redeem them for. For example, you could offer discounts on future purchases, or give them the opportunity to upgrade to a VIP membership.
One company that does this well is Ulta Beauty. They often have promotions where customers can earn extra points on their purchase and they also let you know how many points you currently have. Convenience is something consumers appreciate, so if you have a loyalty program, make sure your customers are aware of it and know how to use it to their advantage. They will thank you.
Celebration Emails
Here's a good reason to collect as much information about your customers as you can. Gaining bits of personal information allows you to send birthday greetings that are personal and thoughtful. You can also send happy holiday emails. Offering a special discount or gift can be the icing on the virtual cake.
At Home, the home décor superstore, sends a 40% off coupon every year for my birthday. I always look forward to it, planning what I will use it for weeks before it hits my inbox. BD's Mongolian Grill sends me $5 off every year for my birthday and I always meet the same friend for lunch to use it. Even though my birthday is months away I quickly recalled these emails, which goes to show, they truly are valued by customers.
Post-Purchase Emails
You know how you can tell that a company is serious about its customers? When they send a post-purchase email. These are simply follow-ups after the customer has made purchases and used services from your store/website in order to build brand loyalty or ask for feedback (or both!). Another way you can engage with these customers is by asking them to post the item on social media and tag your company.
I recently purchased a skincare product from Dermatica online. A few days later I got an email saying it was time for a check-in and there was an option to update them on how my skin was reacting to the product. This is just another way to show your customers you care about their thoughts and hopefully build a lasting relationship.
Educational Emails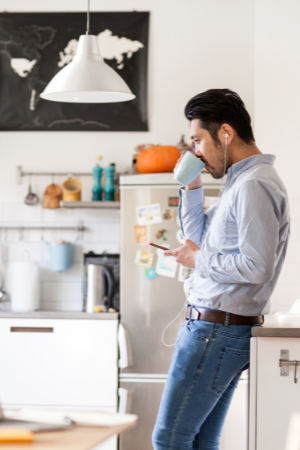 Some subscribers might not know very much about your brand. Use these emails to tell the story of your brand and how it came to be. Show them the benefits of your products or services. Adobe Creative Cloud sends emails of this kind and it's a great way to learn innovative ways to use their software.
You can also offer helpful tips and how-to guides in different formats. Remember that we all learn in different ways. For example, you might be surprised to learn that almost half of Americans listen to podcasts. Through email, send your audience a link to an informational podcast or video so that they have options on how to consume the information you are providing them with.
Go Get Started
To develop your ideal marketing strategy, experiment with different types of email content and see what works best for you. Use this list to help you get started on your email marketing journey and let us know if you need help creating your next campaign!
Interested in how Bluegrass can help?
See what we can do.